Our Services
The amazing team of therapists at Personal Touch Therapy has been successfully enhancing the lives of children since 2008. We have built a strong therapy team consisting of compassionate and highly motivated speech, occupational, and physical therapists. Our target population includes all children from birth to 21 who are having difficulty meeting developmental milestones. Our therapy services provide ongoing instruction and training to parents and caregivers in the home. We provide therapy in various setting to include the home, schools, daycares, and head starts.
Speech Therapy
Speech therapy is a service provided by a speech-language pathologist that helps improve a person's verbal and nonverbal communication skills. If a child has communication difficulties such as not talking clearly or not understanding directions, you would take them to see a Speech Language Pathologist also known as a "Speech Therapist". Depending on the area of deficit, speech therapy may focus on improving several different areas such as speech production, understanding and expressing language, social skills, feeding or swallowing. These disorders may result from a hearing loss, mental disabilities, physical disabilities, or most commonly from unknown causes.
Occupational Therapy
Occupational therapy is a service that helps people achieve independence in their daily life activities or "occupations."
In the pediatric setting, therapists use their expertise to help children prepare for and perform important learning and developmental activities. This typically includes muscle strengthening and range of motion of the hands and body, work on bilateral coordination (using two hands together), motor planning, visual perception skills, and visual motor skills. It also includes direct practice of the task, often with adaptations or modifications of the fine motor and self-care tasks (cutting, writing, tying shoes) that are difficult for the individual child.
Physical Therapy
Physical therapy is a skilled intervention that helps children learn to successfully and independently perform gross motor skills (running, jumping, hopping) and functional mobility skills (ambulation, stair climbing, wheel chair mobility, transfers). Physical Therapy also helps young athletes in preventing injury by addressing any muscle imbalance or weakness as well as help them to return to play after injury.
Evaluations
Personal Touch Therapy's evaluations are highly comprehensive and are based on your child's individual needs as well as your concerns. Evaluations generally take place in any relevant setting including the home, day care, head start or other community locations depending on the needs of your family and child.
Evaluations may include or be a combination of the following:
Standardized testing that may include specialized testing, such as a Receptive and Expressive Language Test and Articulation Test
Parent/caregiver interviews and observation in the child's natural environment
Primary Care Physician involvement and collaboration of all pertinent medical history
After gathering all testing information, results of the evaluation will be discussed and shared with you and your child's primary care physician along with our treatment recommendation. Customized goals, specific to your child's needs, will then be developed and written in a report which is mailed to you and your child's doctor.
Treatment
Based on your child's individualized goals which are set forth in their Plan of Care, treatment sessions are typically performed 2 times per week on a one on one basis. Services are always tailored to meet the changing needs of your child, and not just based on general goals.
Various methods of therapy will be used to help address your child's specific areas of difficulty that we discovered during the evaluation process. Activities will be tailored to your child's needs and adjusted on an ongoing basis. Emphasis is placed on parental/caregiver involvement and you will be taught to practice therapeutic activities and techniques to carry over into the home. When appropriate, your child will be given a Home Program "homework" to help reinforce the goals established during therapy.
As therapy progresses, we will reassess your child regularly and keep you informed of their progress. As your child's potential unfolds, therapy goals will be modified to meet your child's unique skill and developmental level.
Our Service Areas
Our therapy teams serve throughout the Greater Houston area.
Personal Touch Therapy's team of therapists provide therapy in the following communities:
Acres Home
Alief
Atascocita
Baytown
Bear Creek
Bellaire
Channelview
Cloverleaf
Copperfield
Cypress
Deer Park
Friendswood
Galena Park
Galleria
Greenspoint
Humble
Inwood
Jacinto City
Jersey Village
Katy
Kingwood
La Porte
League City
Memorial
Missouri City
North Houston
Northshore
Pasadena
Pearland
Shaprstown
South Central
South Houston
Spring
Spring Branch
Stafford
Sugar Land
The Woodlands
Third Ward
Tomball
Willowbrook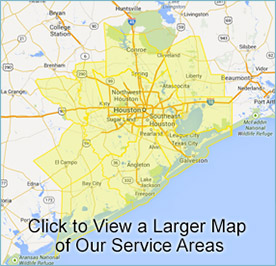 Personal Touch Therapy is growing!
Please contact us if you reside in one of the following counties:
Austin County
Brazoria County
Chambers County
Fort Bend County
Galveston County
Harris County
Liberty County
Matagorda County
Montgomery County
Waller County
Wharton County